We aim to deliver comprehensive and comprehensible IT services that keep you in the loop while getting the job done.  
Iowa City IT offers 55+ unique IT services for our clients in Iowa City and beyond.  We're local IT technicians who are happy to help our community evolve their IT infrastructure, one service at a time.  
So get in touch with Iowa City IT today, and get the personal, professional IT services you deserve.
We are a professional computer repair company located in Iowa City, IA.
Iowa City IT provides premier IT services for Iowa City.  Scroll below to see what makes us different, meet our technicians, and see what we can do for you.
You'll have your equipment up and running before you can say "IT".
The best tech, the best people, the best results.
Your friendly neighborhood IT Services and Computer Repair Shop.
Your friendly neighborhood IT services and computer repair shop.
Any trouble you might be having, our repair staff has seen it before.
Any trouble you might be having, our repair staff has seen it before.
High-quality and cost-effective services for the discerning customer.
No more blind waiting rooms—you'll be in-the-know every step of the repair.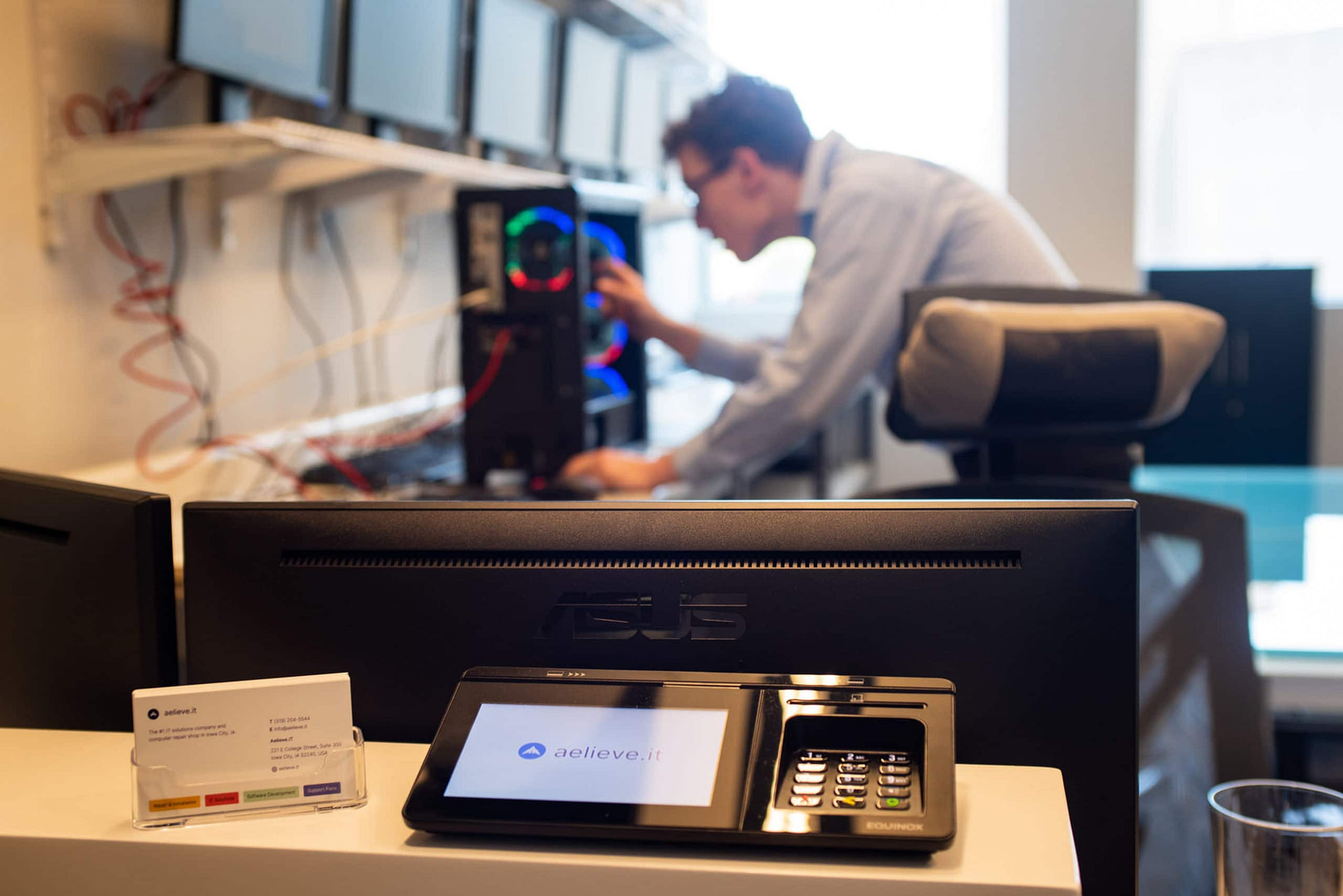 IT services and support for both businesses and individuals.
Our IT services in Iowa City extend to both business and personal devices.  Whether you need your office computers repaired, or your phone just isn't working like it used to, bring your tech into Aelieve and let's get you back online.
We're here to make sure you have a worry and hassle-free repair!
Our promise to our customers at Iowa City IT.
All parts and labor that we provide are covered by a 1-year warranty. If your repaired device seems to be having issues after a repair, please come back and see us right away.
How can you be sure that you are always getting the best price for your repair? Iowa City IT offers low price guarantee on all local competitors' regular advertised pricing.
We're Always Here For You
You are the most important aspect of our business at Iowa City IT. Your satisfaction is our number one priority and we are always available to chat with you about your repair questions.
Frequently Asked Questions
Have questions? Ask us anything and our IT professionals can certainly help.
Your question could possibly be below. However, if you can't find your question please feel free to contact our team.